Decorating a Study Room: A study room is a room in the house that is typically used for paperwork, computers, or reading. This room can be used by children, or can function as a home office for you where you just get your work done in peace. 
Ideas for decorating a study room : Elements
When it comes to interior design, you should first keep the function and shape of the room in mind. Here are some essentials:
Study table (to adapt a computer and provide space for writing / drawing / designing)

Storage cabinets (above, below or both)

Library

Additional places for reading (optional)

Accessories to improve the overall appearance
With the basics in place, you need to figure out how to put all of these together for a good place to study. Keeping a theme in mind is a great way to design the room. For example, some of you might go to a Zen room where everything reflects peace, creativity, and positivity.
You can try a retro piece with bright floral prints, polka dots, and striking colors. English-style study rooms will require elaborate classic furniture and other accessories in rich browns, golds and whites.
Modern and contemporary styles will demand elegant furniture with custom designs. The room can just be whatever you want it to be and reflect who you are. Here are some ideas for you.
How to properly decorate a study room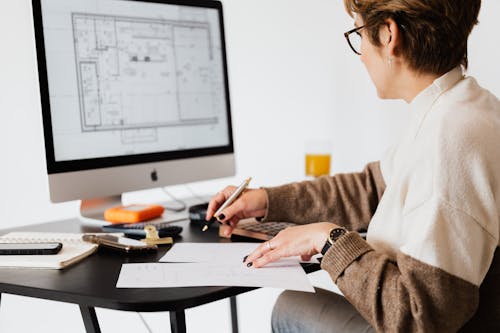 Study table design
Your study table or computer desk should be large enough to accommodate a desktop or laptop computer, and it should have enough space for writing. This is especially true if you are designing the room for children, as they need the space to complete their writing homework, doing crafts, and other creative activities.
A study table with storage underneath is essential for children, due to the many books and other items they need to store. Make sure you are comfortable sitting at the desk before you buy it. The chair you use should be of an appropriate height (for you or your child). Comfort is essential.
Placement of the study table
Where you place the table is important. It should ideally be against a wall, so that you don't get distracted by other events. On the other hand, , you should place the table in a way that faces the door to the room. Whatever you do, don't place it with the door behind you.
         Some prefer to place the table against a wall with a window, which is great for being able to enjoy the view while taking a break from studying. Finally, corner computer desks are also a good choice as they are great space savers. Make sure that wherever you place your study table, you get as much natural light and ventilation as possible.

Decoration of a study room: Cabinets and bookcases
Wall bookcases and cabinets usually do the trick, especially if you have limited space. If you have a large bedroom, a floor to ceiling bookcase would be great. Shelves are not only functional, they can add a lot of design and color to a room. Library design ideas include the use of crisscross shelves, shelves of different lengths, and lighted shelves. You can add color with different books. Keep in mind that libraries don't just need books. If there is room, use simple accessories such as figurines, vases, or other items to break up the monotony of rows and rows of books. If you have the room, you can place a dresser or other storage cabinets to store other things. For example, if you are a designer or your child enjoys arts and crafts then this storage will come in handy. Also, you can set up hanging shelves on an empty wall to display some kind of artwork, which will soften the look of the room.
Decoration of a study room: Lighting
Lighting is very important in interior design. Artificial light is as important to consider as natural light. If you have cabinets above your desk, incorporate lights under the cabinet that will act as a direct source of light into the room. You can also use a lamp for this purpose. Usually having white light in a study room is always the best option. You can include a floor lamp or a hanging lamp with a yellow light just for a change of mood.
Other decorative elements of a study room
Now it comes to other accessories that will help with interior decoration. Here are some great things you can add to improve the room.
Chair for the table: While the design of the study table is something you shouldn't compromise on, the chair you use can be of any style as long as it's comfortable. Use this chair to add color to the study room. The chair can also reflect prints and textures when upholstered with interesting fabrics.
Softboard / Whiteboard: A Softboard or whiteboard is very important in a study room, whether it is used by children or by adults. They're great for pinning up important information or motivational posters and jotting down things to remember. Ideally, these should be placed just above the study table.
Area for other activities: If you need a designer table or additional space to create arts and crafts or perform any other activity, you can include an additional desk in the room. The ergonomics of this desk will depend on the function for which you want to use it. For example, it may be higher than your usual desk, so you can easily stand up and work if needed.
Area Rug: An area rug is another great way to add color to the room. If you have a monochromatic room, break up the monotony by having an area rug on the floor. If you can place it against a wall, you can throw pillows on the rug to make a seating area where you can take a break from work and relax a bit. It could also function as a reading area.
Sofa: This is optional, but having a shape to sit outside of your study table chair is good. It's likely that you'll be bored of sitting in one place and working, and a couch or even a bean bag can give you much-needed table-top respite.
Curtains and Drapes: Depending on the people who use the room, choose the appropriate curtains and drapes to give the room its color and character. You can also use blinds instead of curtains for a change. Fabric blinds can be specially designed to match the theme of the room, or you can stick to bamboo blinds for a Zen look.
Plants: Plants are refreshing, and they will make the room look beautiful and simple if you place them on the windowsill. Choose from a simple bamboo, bonsai, or any other plant of your liking.
Tips for  decorating a study room
While you have your ideas in place, there are some very important tips that you should keep in mind when designing the room.
Avoid cluttering the room. While basic furniture is essential, avoid trying to cram the room with more furniture if you don't have space. A study room is where you work and the clutter is very annoying. Keep the room minimalist so you can generate your best work.
Don't use too much color in the room. It is a place where you are supposed to concentrate; It is not an entertainment area. Having too much color will distract you and affect the concentration required to study or complete a task.
Comfort is more important than design. Don't give up personal comfort for the sake of design. If you like a table or chair but don't find it comfortable, avoid buying it.

If you are placing wall shelves or hanging cabinets, place them at a height where you will not hurt yourself. Avoid sitting under a shelf or hanging cabinet and always keep your safety in mind.