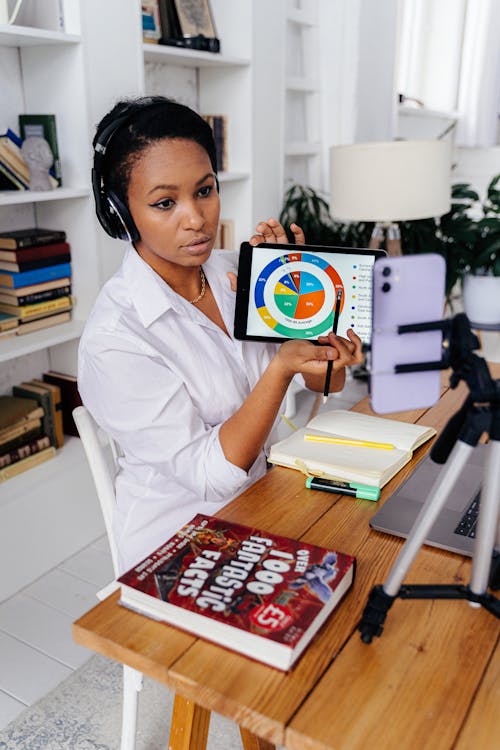 Animoto  – Allows students to make a short 30-second video clip of what they learned from a given lesson.

AnswerGarden  – A tool for group online discussion or surveys; teachers can use this tool to get real-time answers from students to the questions asked.

The Answer Pad  – Allows teachers to collect data from students via the Internet or an application; it is advertised as an ideal application for a "twisted" classroom or blended learning.

AudioNote  – A combination of tools for recording sound and capturing notes when working with students.

Backchannel Chat  – This site is a teacher-edited version of Twitter. In this extended chat tool, you can record a chat, create a tag cloud, or see what comes into the focus of the conversation.

Biblionasium  – This secure and easy online network of books allows teachers to see which books students have read (digital reading diary), challenge students to read, and track progress. Students can also write reviews and recommend books to their peers on the site.

Binumi – Some of the world's most innovative organizations use it to launch their video platforms in the cloud.

BookSnap  – Although the app is currently only available for iOS, it does allow students to digitally interact with text and other students.

Buncee  – A tool for creating and presenting content that helps students and teachers in visualizing, communicating and interacting with concepts and ideas in teaching.

Chatzy  – Use Chatzy for direct private conversations. This program is a great addition to class discussions, students can leave answers to questions after class or continue the discussion after class.

ClassKick  – This app allows teachers to assign tasks to students so that both the teacher and other students can comment on the task. and progress.

ClassPulse  – This tool, available as a mobile and online application, increases student engagement outside the classroom by creating an environment conducive to working together.
Coggle  – A mental mapping tool designed to better understand how students think.

Conceptboard  – This software facilitates team collaboration using a visual format – similar to mental maps – but using visual and textual inputs. It can work on multiple devices, it is compatible with computers and tablets.

Crowdsignal  – Quickly and easily make online surveys, tests and questions.  

Dotstorming  – A whiteboard application that allows you to publish and vote on digital notes. The tool is best used to initiate discussions and exchange ideas on various topics and issues.

Educreations Interactive Whiteboard  – A whiteboard application that allows students to share with others their understanding of what they have learned.

Edmodo – An interactive learning platform where students and teachers can work together to solve problems.

Edulastic  – Provides teachers with rapid assessment in accordance with standards and instant feedback from students to tailor learning.

eSurvey Creator  – It allows teachers to quickly and easily create questionnaires and surveys.  
Five Card Flickr – This tool is designed to encourage visual thinking and uses the tag option from photos on Flickr.

Flipgrid  – Students can record videos from 15 seconds to 5 minutes to answer assigned topics; teachers and other students can leave comments.

ForAllRubrics  – This software is free for all teachers and allows you to import and create tables with grading criteria. You can collect data without connecting to the Internet, automatically calculate grades and print or save evaluation criteria as PDFs or tables.

Formative  – This online system allows teachers to assign tasks to students, get real-time results and give them immediate feedback.

FreeOnlineSurveys  – Allows teachers to quickly and easily create surveys, tests and forms.

Google Forms  – Google Drive lets you create documents that students can work on together with their smartphones, tablets and laptops.

GoSoapBox  – This student communication system is free to work with less than 30 students. It works according to the "Use your device" model, so that no additional communication devices are charged. One of the most interesting options is the Confusion Meter.

iBrainstorm  – An iPad app that allows students to collaborate on projects using the touch screen.

Kahoot  – A game-based information exchange system between teachers and students, in which teachers can create quizzes using online content.

Kaizena  – An online tool that allows you to leave comments on students' work in real time. Teachers can underline sections, leave voice comments, or attach attachments with resources that students can use.

Lino  – A virtual board with sticky notes with which students can ask questions or leave comments about what they are learning. It can be used during classes or for students to leave answers to questions after class.

Mentimeter  – Allows you to use mobile phones or tablets to vote on questions asked by the teacher, which increases student involvement.

Micropoll  – A great tool to quickly take surveys and analyze responses. Surveys can also be posted on websites.

Naiku  – Teachers can take tests easily and quickly, and students can give answers using mobile devices. Great for checking comprehension during and after class.

Nearpod  – This tool allows you not only to collect information about what students have learned, but also to customize classes based on the data you have collected. The basic version (for up to 30 students) is free.

Newsela – A great collection of resources and articles on the Internet.

Obsurvey  – Create surveys and questionnaires quickly and easily.

Padlet  – A blank canvas that students can use to create and design joint projects. Great for sharing ideas.

Pear Deck  – Create interactive presentations in which students can participate using their smart devices. Limited free use, offers unique types of questions.

Peergrade  – A platform that allows teachers to set assignments and assessment criteria. Students post their works and are anonymously assigned works by their peers to evaluate them according to criteria.

Piazza  – A platform that allows teachers to set lessons, assignments and homework; ask and answer students' questions; and survey students about class content. This tool is more suitable for older students because it mimics the format of teaching in higher education.

Pick Me!  – An application for iPod, iPad or iPhone that is easy to use and allows random selection of students. It can be used to facilitate teaching.

Pixton – Free comic book tool.

PlayPosit  – An interactive video and grading tool that allows teachers to determine formative grading criteria to check what students know about a topic. Teachers can select content from a library of videos from popular sites such as YouTube, Vimeo and others.

Plickers  – Allows teachers to collect data for formative assessment in real time without students having to use their devices. Perfect for classrooms where only one device is used.

Poll Everywhere  – Teachers can do surveys to collect comments or ask questions. Students respond in different ways, and teachers see results in real time. You can use open-ended questions to collect data and create tag clouds to consolidate answers. The number of users is limited.

Pollmaker  – A popular survey tool that has some unique options, such as giving multiple answers to a single question.

ProProfs  – Teaching and testing knowledge through short knowledge quizzes, questionnaires and surveys.

The Queue  – A free educational chat tool similar to Twitter that allows teachers to ask questions and students to answer. Students can respond with a text or video clip, and the tool has a "travel" option in which teachers assign a topic in the video clip and share with the participants the resources they need to participate. It is great for gathering information for formative assessment at the beginning, middle or end of a teaching unit.

ThingLink – An interactive whiteboard in which an image or video clip represents a canvas with associated key points.

Quia  – Teachers can make games, tests, surveys and more, and they can also access a database of existing tests made by other teachers.

Quick Key Mobile Grading App  – Helps teachers to assess quickly and accurately and get immediate feedback for greater student engagement.

QuickVoice Recorder  – Another sound recording application for iPhone or iPad that allows you to record lessons, discussions or other audio files for projects. You can easily transfer recordings to a computer for use in presentations.

Quizalize  – A great tool that allows teachers to easily do tests and homework for students. Teachers can see how students have done them and identify areas that need to be improved.

Quizlet  – Create quizzes, knowledge quizzes, cards and learning games that are interesting and can be accessed online and via mobile devices.

Quizizz – Interesting grading forms.

RabbleBrowser  – An iPad app that allows a group leader to organize shared viewing of content online.

Random Name / Word Picker  – This tool allows the teacher to enter the names of all students and randomly select a name. You can also insert a list of keywords and use the tool to help students guess selected words based on the definitions you give them.

RealtimeBoard  – Teachers can invite students and work together with the whole class in real time.

Remind  – A free tool that allows teachers to send messages to students and stay in touch with parents. A great tool for "understanding" which is also easy to use.

Seesaw  – This tool helps teachers improve communication with parents and facilitates formative assessment, while students can use the platform to document their learning.

ShowMe Interactive Whiteboard  – Another whiteboard application that students and teachers can use to test their understanding of what they have learned.

Socrative  – Exercises and games that students can use over phones, laptops and tablets.

Sparkpost  – This Adobe app allows teachers to add graphics and visuals to question cards to check what they've learned.

Spiral  – A tool that allows teachers various forms of formative assessment and giving feedback.

SurveyMonkey  – Teachers can create and submit online surveys and questionnaires.

SurveyPlanet  – Another survey tool that teachers can use to check what students have learned.

Tagxedo  – A tag cloud creation program that helps you make sure students understand things the same way and facilitate dialogue.

Tellagami – A mobile application that allows you to create and share short Gami videos.

Triventy  – A free in-game testing platform that allows teachers to create tests that students will solve in real time.

Typeform  – A survey tool that allows teachers to insert graphic elements.

Verso  – An application for sending feedback, allows teachers to organize learning via URL links. Students download the application and enter their answers to the task. I can post my own comments or respond to the comments of others. The teacher can group the answers and check the levels of participation.

Visme – Free software for making infographics.

Vocaroo  – A free service that allows users to record audio without using software. You can easily insert audio recordings into presentations and web pages. Great for group work and presentations.

VoiceThread  – Allows you to create and share conversations about documents, diagrams, videos, images and almost anything else. Facilitates work and discussion between students.

Voxer  – This audio recording tool can be used by students to listen to and evaluate their own ideas and tasks. You can send recordings to parents, to hear how their children are progressing, you can organize students to talk about what they are doing or send comments to students.

WeVideo – An online video editing tool.

Wiser – Interactive combined worksheets.

Wordables  – A game of guessing words from the clouds. This application allows you to check how much students have learned or to determine what initial knowledge they have about a topic. Word clouds are multi-word images based on which you need to guess a given keyword.

WordArt  – This word cloud program has an additional option that allows users to link each word to a web page.

Wordle  – Makes tag clouds from any text you enter to consolidate answers and facilitate discussion.

WordSalad  – This application creates tag clouds from the text you enter, they can be reported and shared with others.

XMind  – Mental mapping software that can be used on computers and laptops.

Yacapaca!  – Allows teachers to easily create and share tests.

Zoho Survey  – Teachers can create surveys that students can access and respond to via mobile devices. 

Zotero – Personal Research Assistant.